Sexual Assault Survivor
Sexual Assault Survivor – Australian of the Year 2021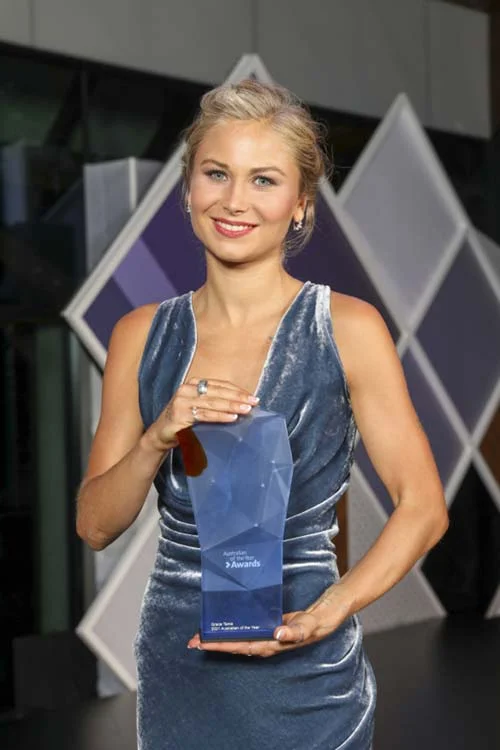 Grace Tame has been named Australian of the Year for 2021 at an awards ceremony in Canberra at the national arboretum.
Grace was groomed and sexually assaulted as a 15 year old girl whilst attending St Michael's Collegiate School in Hobart by her then maths teacher Nicolaas Bester. The 58-year-old teacher groomed Ms Tame and repeatedly sexually abused her. Grace was diagnosed with anorexia around the same time and during his sentencing, Justice Helen Wood said she had been "particularly vulnerable given her mental state" and that her abuser "knew her psychological condition was precarious" and had "betrayed the trust of the child's parents and the school's trust in an utterly blatant fashion."
In addition to the horrific abuse; the school was found to have had multiple opportunities to intervene but the abuse was not curtailed until Bester was eventually reported.
In addition, for Criminal Law matters, Tasmania's Evidence Act had prohibited information identifying survivors of sexual assault which was in place since 2001. As sexual assault lawyers, we concur that such a law may now be considered archaic when the success of the case depends somewhat on public awareness to assist in the impetus to propel a fair resolution for the victim.
The sexual assault lawyers in conjunction with Tasmania's Attorney General Elise Archer called for a review of the gag law, which was a huge win for the victims' rights. The right to express freely ones opinion is the cornerstone of any functioning democratic society which bases justice on the rule of law.
Tame has become an advocate for other survivors of institutional sexual abuse and sexual assault victims in general. We would like to congratulate Grace Tame for her courage and strength in speaking out against her abuser as we understand how incredibly difficult it can be to face the fear which the abuse leaves behind; even many decades later. Her strength and resolve is an example to all who have had such obstacles placed in their life path, and her determination to overcome these obstacles stands as a beacon of light for others who follow.
Ms Tame also thanked journalist Nina Funnell, who started the campaign #Let Her Speak, Tasmania's laws preventing survivors from speaking out were overturned.
If you have been the victim of institutional sexual abuse, and are considering speaking out, we would encourage you to make contact with one of our experienced sexual abuse lawyers. We are able to advise you of the possibility that you may qualify for a compensation payout for the abuse you have suffered. Our skilled lawyers will gently walk you through your claim at your own pace and our "no win no fee" policy will ensure you are not out of pocket for any legal costs. Please submit your number or email and a lawyer will be in touch to help you with your potential claim shortly; we look forward to hearing from you and encourage you to start your journey by contacting us below.
---
Support Is Available:
Adult survivors of abuse can contact Blue Knot Foundation and SAMSN for support.
Lifeline is available 24/7 on 13 11 14
Children and Young people can contact Kids Helpline Official 24/7 on 1800 55 1800, Fighters Against Child Abuse Australia [F.A.C.A.A] or Bravehearts.
No Win No Fee Compensation Claims - Enquire Now