Regional Meeting IR Global Brisbane
Regional Meeting of IR Global Members Held in Brisbane and Plan for Tokyo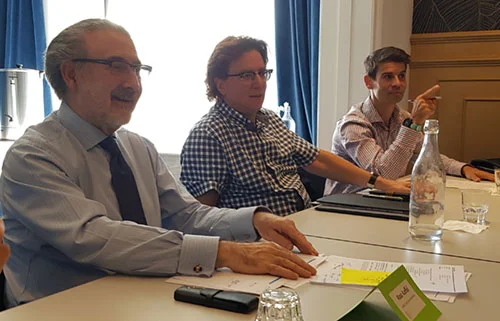 The Australia/New Zealand Regional Group enjoyed another successful, and well attended meeting in Brisbane on Friday 22nd February.  The hosts were our two Brisbane based firms,  James Conomos Lawyers, represented by James Conomos and Wiebke Hermann, and Rouse Lawyers represented by Matthew Rouse.
Attendees came from Sydney, Melbourne, Newcastle, Perth, Christchurch NZ, and Auckland NZ making a group of 18. Furthermore, when you consider the distances travelled it shows the dedication and drive behind this active group.
Networking
The meeting was chaired by Ross Koffel, and the main focus of the discussions was the upcoming "On the Road" IR Global meeting to be held in Tokyo in May.  Also, the group has been invited to make an informational presentation to the general  membership.  On this occasion as to the parameters for investing and working in the region, the relationship between Australia and New Zealand,  and pathways to set-up and migration.  Accordingly, this will be the premium networking opportunity for the group, drawing to the attention of our colleagues, the opportunities that are there for foreign investment in our stable, and growing economy.
Speakers
The guest speaker was Tony Wilson, a culture and performance consultant, with the topic of "collaboration".  It was a most engaging and topical discussion that ensued and we were all the beneficiaries of Tony's experience both in a corporate environment and with high performance, professional athletes.  Overall the analogy provoked thought between seemingly opposite groups. It also provided strategies for getting the most out of both ourselves and our work colleagues in the pursuit of excellence.
Overall, the hospitality of our hosts was unequalled. Both lunch and the massive Greek banquet dinner held that night will live long in our memories.  Even a fine summer's evening was put on for our enjoyment, and the relaxed nature of the good food and great company told the story of a successful day. In any event the building of the bonds of both trust and friendship have resulted; along with increased group unity.
Thanks
Many thanks to Justine Fletcher of James Conomos Lawyers who's organisational skills made for a smooth running,  productive and most enjoyable day.  Also, thanks too to Matthew Rouse and James Conomos for hosting.
The next meeting is scheduled for August of this year in the beautiful city of Perth, Western Australia,  and is to be hosted by Martin Kirkness of Dry Kirkness,  who provide audit and assurance services.GROUP PHOTO (LEFT TO RIGHT):
Richard Ashby (Gilligan Sheppard Accountants, Auckland NZ);  Judy Tse (Chapman Eastway, Tax Accoutants, Sydney);  Nicola Tiffin (Anthony Harper, Immigration Law, Christchurch NZ);  Nigel Parker (Houlihan2 IP-Patents, Melbourne);  Julia Koffel (Koffels Solicitors & Barristers, Sydney);  James Conomos, Co-Host (James Conomos Lawyers, Brisbane); Ross Koffel, Chair (Koffels Solicitors & Barristers, Sydney); Mark White (White & Mason Lawyers, Melbourne); Paul Warden-Hutton (Houlihan2, Melbourne); Matthew Rouse, Co-Host (Rouse Lawyers, Brisbane); Bruce Saward, (Saward Dawson, Chartered Accountants, Melbourne);  Wiebke Hermann (James Conomos Lawyers, Brisbane); Grant Sefton, (Seftcorp Law, Newcastle); Martin Kirkness (Dry Kirkness, Audit & Assurance, Perth) and Riccardo Raso, (McBurneys Chartered Accountants & Business Advisors, Sydney).   Present earlier in the day was Geoffrey Shiff (Shiff & Company, Melbourne).