Lowy Institute Dinner
Ross and Julia Koffel, of Koffels Solicitors & Barristers Sydney, attended the annual Lowy Institute dinner given by the Lowy Institute for International Affairs.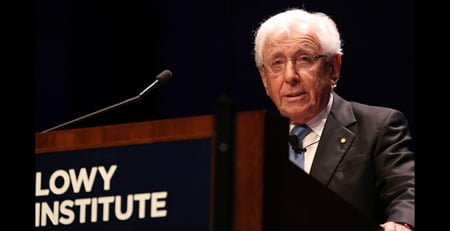 The Institute was founded by Sir Frank Lowy, who built the global empire that became Westfield Shopping Centres.  A long time business figure on the global stage, Sir Frank is also a notable philanthropist with a reputation that precedes him for a mindset of putting back into the community that he believes provided him with his opportunities for success.
As the 15th Anniversary of the Institute, this year it was Sir Frank Lowy himself that gave the annual address at the Lowy Institute dinner.  Introduced by the Hon Julie Bishop, past Australian Minister for Foreign Affairs, his speech touched on "3 I's, of Innovation, Infrastructure and Immigration", which he believes are the corner stones of growth and prosperity for Australia as a young nation moving forward.
Past speakers at this prestigious event have included; John Howard, past Prime Minister of Australia, Angela Merkel, German Chancellor, and Boris Johnson past UK Foreign Secretary.
As a law firm with a large emphasis on global affairs and cross-border transactions, our participation in the activities of the Lowy Institute for International Affairs enhance our knowledge of world affairs, and our ability to better understand and support our client base who indeed are representative of our globalised world.